Product Description
Percell Aquarium tube brush - Set of 3 is a good economy pack of aquarium cleaning tool. As there are always different types of tubes, filters and equipment that need to be cleaned. With this economy pack of 3, you can clean almost everything with them with three sizes and different bristle hardness. The large brush is almost 50cm long, its bristle is long but soft, so you can insert the brush in thick and thin tubes. Medium brush is a shorter and soft brush, with its thin stainless steel holder, it allows you to insert in tiny tubes easily. The bristle of the small brush is shorter and harder. You can clean those aquarium accessories that need a rough touch or with stiff dirt that are hard to get rid of.
These aquarium Tube Brushes are very simple to operate, just insert them into the tubes and push in and out several times.
Remember to clean them under water.
There is a ring at the end of each handle for you to hang on any hooks available after cleaning the brush and allow it to dry.
Discard them when bristles are torn or out of shape.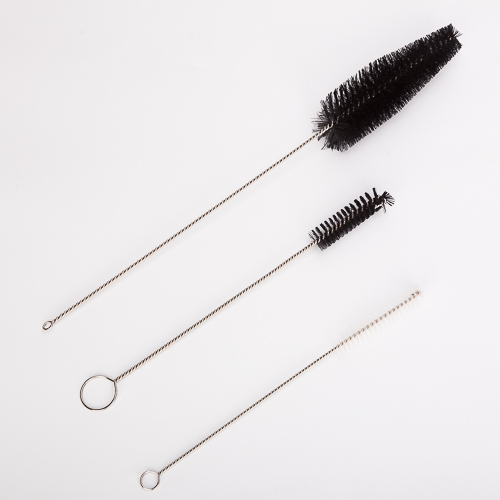 Large Brush Length:
Bristle Length: 16.5cm

Handle Length: 32cm

Total Length: 48.5cm
Medium Brush Length:
Bristle Length: 7.5cm

Handle Length: 23cm

Total Length: 30.5cm
Small Brush Length:
Bristle Length: 8.5cm

Handle Length: 18.5cm

Total Length: 27cm
Material: Nylon Bristle and Stainless Steel Wire Handle
ABOUT US
PERCELL PET is established in 1978 with offices located in Taipei, Taiwan and Guangdong, China. Currently, we partner with more than 49 distributors around the world and carries thousands of quality pet supplies for dogs, cats, birds, fresh and salt water fishes, reptiles and small animals such as rabbits and ferrets, etc from both Taiwan and China.
We supply popular and classic pet products around the world and also OEM products at your request. Such as dog products, cat products, aquarium supplies, and bird supplies.
Flexible in Order Volume - orders can be done in LCL or full container, MOQ can be discussed accordingly.

Communication - staff are fluent in written English with in time replies.

Service - provide help and solutions to your sourcing in Taiwan and China.